When I asked you all if I should write a blog post about our trip to France, I received an overwhelming "yes!" so here it goes:
There seems to be a stereotype in the USA that the French are not the friendliest of people. However, in my opinion, the French are some of the nicest and most hospitable people I have ever met. I truly fell in love with French culture and the people that make it so great. Everyone was so welcoming and kind!
The first thing I suggest to anyone thinking about taking a trip to France is to plan almost everything ahead of time. Booking Airbnb's, planning daily activities, and buying tickets to museums (it's usually cheaper and you skip lines) are just a few examples of planning before you get on that long plane ride. I have to be honest, my husband did most of the planning and created an itinerary for us, which was the key to making our trip smooth. I did, however, choose all the Airbnb's, based on style and area. We knew we wanted a rich culture experience versus the typical tourist site seeing to do list. We rented a car, which was one of the best choices of the trip. Not having to rely on trains and buses was a blessing, and it afforded us the opportunity to experience places that train travelers often miss.
We flew into Paris, so the city of lights was our first stop. We purchased a direct flight from Airfrance, which departed from the Raleigh airport. It was a bit more expensive, but it was well worth it! We even scored entire rows to ourselves, so we basically went to sleep, and woke up in Paris!
I asked my sweet friend, Cyrielle, a French native, where we should stay in Paris and she suggested Saint Germain. And man, it was so perfect ! We booked an airbnb in the area with amazing restaurants directly beneath our apartment, and walked to the Louvre in 15 minutes !
Here is the link the Airbnb, the owners name is Vincent and he was super great !
Here are some of the images I captured in his space. It's a small space, but most places are tiny in Paris. It was perfect for us!
There was a restaurant about 50 ft from our place that we loved! The decor is French/Moroccan, which is right up my ally. I suggest the yogurt parfait with fruit !
While in Paris, we visited the Louvre. We got there early, but it was still very crowded, especially in the Mona Lisa room (watch out for those selfie sticks). I love impressionist painters, but the Louvre's collection is scarce. However, if you love all types of art like Greco Roman sculptures or Islamic art, the Louvre is definitely worth a visit. If you do go, book your tickets in advanced so you don't wait as long in line! We only waited about 5 minutes before entering.
We stayed in Paris for 2 1/2 days, then took a day trip to Versailles. It was a short train ride, about 40 minutes and then a 10 minute walk to the palace. Unfortunately, the palace was also very crowded, but it's a must see if you love French architecture and interiors in general. I was in awe. Here are some images I captured as I waited very patiently for the tourists to move out of my shots.
The next day, we picked up our rental car in Paris and drove to our next stop in Vernon. The car was about $207 total for 8 days, which is a great price. Most credit cards (we use Capital One Venture) will cover collision and theft on rental cars. Forgoing rental insurance saved us about $180. We saved another $130 by not renting a GPS from Hertz, and downloaded Google maps on our phone for directions. We were nervous about driving out of Paris, but it was surprisingly easy (if you're a good driver like my husband)! I also think it was a God thing because He knows how anxious I get about this stuff. We absolutely loved Vernon. There's not much to see, but our Airbnb was magical. Our hosts' name was Evelyn and she effectionately called herself our French mommy. She's an artist and just a lovely woman all around. This is her greenhouse where we ate breakfast in the morning.
Her home is 10 minutes away from Claude Monet's home and garden, which is why we stayed there in the first place. I have been a fan of Claude Monet since I was a little girl, and it was a dream to see where he created some of his most famous work. I felt like a little girl strolling through his gardens and experiencing the beauty of the different flowers. If you are a fan of impressionist paintings or just beautiful gardens, I highly recommend Claude Monet's home. It's a bit crowded, but it is a beautiful sight to see. This would be another good place to buy advanced tickets. We waited almost an hour since we forgot to book online.
Just a 10 minute walk up the road is Hotel Baudy, a historic place in Giverny where artists including Claude Monet, Cézanne, Renoir, Sisley, and Rodin used to go. We had a really cute meal there and the service was excellent. I highly recommend it. Hotel Baudy is not crowded (at least when we were there) and didn't feel touristy.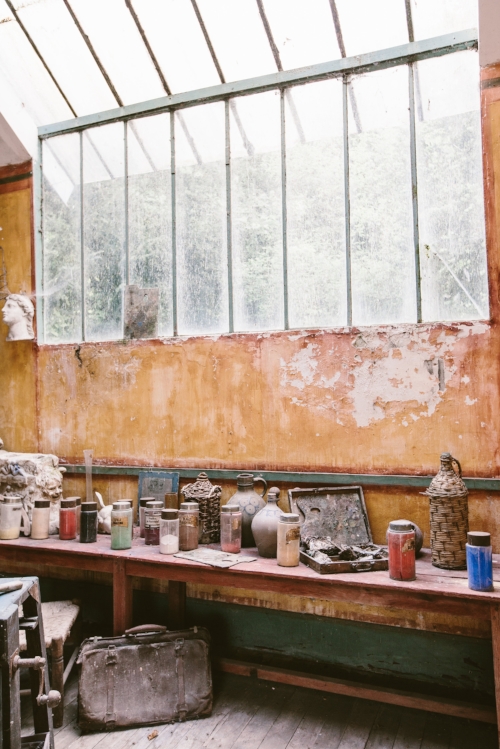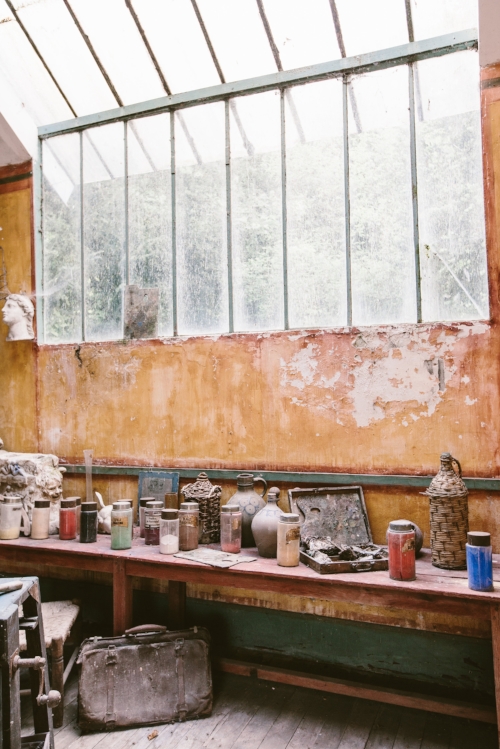 While we were in Paris, we met a lovely woman named Usha, who owns a store called Jamini. She follows me on Instagram and invited me to stop by her store, and I'm so glad we did! We became instant friends and she invited us to her home in Normandie, where we shared an amazing brunch with her partner, Claudio. Her home was only about 45 minutes from our place in Vernon, so it worked out great! I was so happy to photograph her home, along with Usha and Claudio. It was probably one of the best parts of our trip!
After exploring the Normandie area, along with cliffs in Eterat, we made our way to the south of France, with a quick stop in Beaune, in the Burgandy area. Our Airbnb in Beaune was simply magical. Here are some images I captured.
Here Is the link to the Airbnb.
Beaune is so cute! We were only there for one night, but if you're not there for the wine tours, then a quick stop is perfect.
The next morning we headed off to the Provence region where we stayed in a place called Arles. We really enjoyed Arles, fitted with Roman ruins and a coliseum. Our Airbnb was amazing. If you love eclectic style, this one is so for you. A sweet old kitty named Yemmy lives there, which made my heart so happy.
Here is the link to this Airbnb.
We decided to stay in Arles because it was a central location to lots of other towns in the surrounding area of Provence (although tricky to navigate by car). Each day, we took a day trip to different towns and explored. Some of my top favorites are Gordes, La beaux, and Saint Marie de la Me.
I have to give a little shout out to this cafe we ate at each morning. It's so affordable, delicious, and convenient, as it's located right next to the lot we parked our car. The people are also just so friendly. I got the three fromage (Cheese) Pizza almost everyday, it was that good!
Gourmandise
6 Rue Jean Lebas, 13200 Arles, France
There is a flea market on the first Wednesday of each month in Arles, which we just so happened to be there for. It was a cute little market and we found some nice trinkets.
After four days in Arles, we drove North to a city called Avignon, famous for the Pope's palace. Avignon's TGV train station is where we scheduled to drop off our car, which was really convenient since we booked a train ride back to Paris. Driving in Avignon's city center is not recommended, as we quickly discovered. Once we finally found a place to park, we had a nice lunch near the Pope's palace and checked out the famous midievel bridge, Pont Saint-Benezet. After our leisure exploration of Avignon, we jumped on the train back to Paris, since our flight home would leave in the following few days. I also wanted to stay in Paris at the end of our trip with the intention of shopping at a few antique markets, which you know your girl isn't going to pass up! Here was our last Airbnb. Our place was very pretty, spacious, and close to lots of fun restaurants. We enjoyed the Saint Germain area more, but had a great time with our host!
We woke up the next day and went to a flea market about 45 minutes away by metro train. The market is called Puces de Vanves, and it was well worth the effort! It's a huge market, and some of the prices were crazy, but I found some dealers who were willing to negotiate. I found some really fun paintings and pottery. We went to a second antique market that day called Saint Owen. Everything was crazy expensive, but fun to look at.
As you could imagine, we were exhausted at the end of our trip. We saw so many areas of France, and drove all over the country. It was an experience of a life time, and I'm so grateful that we were able to experience France together. I hope you guys have enjoyed our little tour of France! If you have any questions, please don't hesitate to ask me in the comments!
Here are some extra images that we took along the way <3